LMB - Slash
The user slices their opponent dealing 15 damage.
E - Punch
The user punches their opponent with their left fist and does superior damage.
R - Sword Swing
The uses swings their sword and body around doing godly damage.
T - Kick
The user kicks the opponent into the air doing superior damage. This can be used to set up combos or kill the opponent with R
Quotes - This spec has no quotes.
Pose - This spec has no pose.
You can buy this spec at the shop for 100K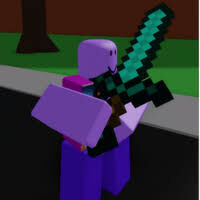 The Shiny Sword is an amazing spec mostly used by people that are good with PvP at close range.
Pros:
+ R can deal at least half the opponent's health bar.
+ T can set up combos.
+ Left click can be spammed to deal godly damage in only a few slashes.
+ Will dominate any close range stands.
Cons:
- Has a really hard time getting close to deal damage.
- No ranged moves.
- Hard to get due to it's high price.
- Completely outclassed by zoners.
There is also a bug where you won't take any damage. It is unknown how it is caused, If you do know then please edit this.
Community content is available under
CC-BY-SA
unless otherwise noted.