"Thats why IN FIVE NIGHTS AT FREDDYS 3, A HORROR RIDE BUILT JUST FOR ME!" -Freddy
Basic Information: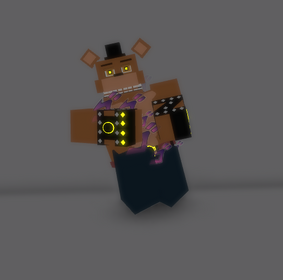 Freddy is the titular main antagonist of the Five Nights at Freddy's series.
Passives:
[PASSIVE]: Animatronic Armor
Has infinite health.
Moves:
E - Delicious Pizza Barrage
Freddy Fazbear rushes at the opponent doing very high damage like Bootleg Purple Guy's barrage.
R - Jumpscaring Wrath
Freddy Fazbear lunges at the opponent and plants a bomb inside of them, when triggered, the bomb will kill the enemy instantly.
(Note: The pose of this stand plays Five Nights At Freddy's 1 Song by The Living Tombstone.)
Community content is available under
CC-BY-SA
unless otherwise noted.